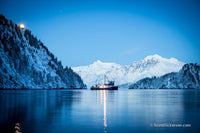 Great Coffee in the Great Land
We draw our inspiration from the beauty of Alaska and strive to roast our beans to perfection so they your cup of morning brew lives up to the view.
Store Hours & Location
Summer Hours:
Monday - Saturday  (6:30AM - 5:00PM)
Sunday   (7:00AM - 3:00PM)
295 E. Pioneer Ave.
Homer, Alaska 99603
Menu
We offer Breakfast and Lunch every day.  Eat in, take out, or use our drive-thru! Call ahead and we will have your order ready for pick up.
(907) 235-4970